Original Modern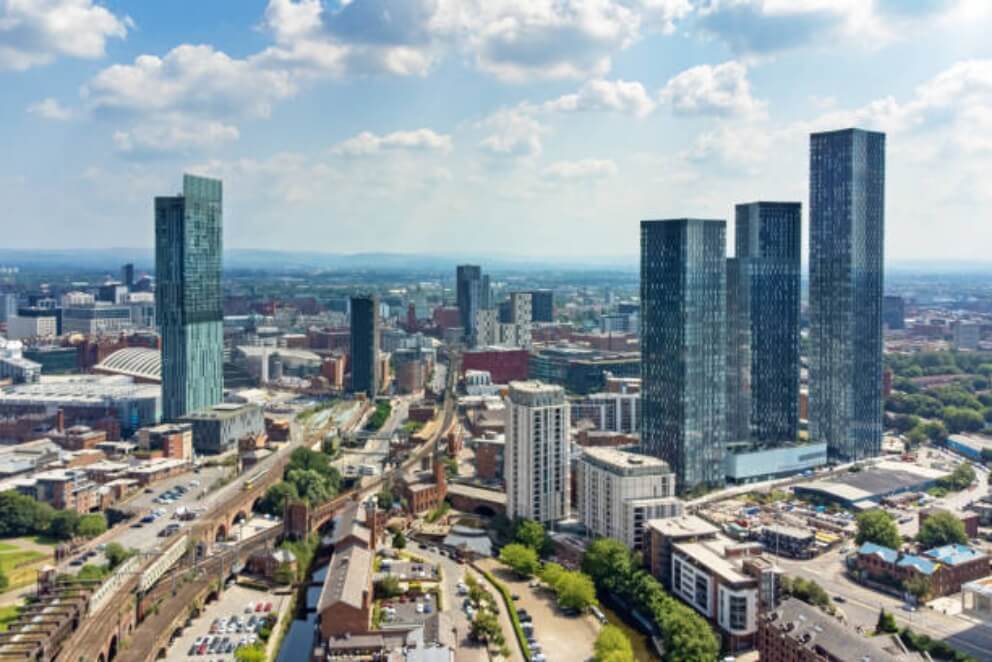 The Original Modern initiative was a strategic design project, developed in collaboration with Peter Saville, that sought to define the concept of Manchester as the Original Modern city.
Original Modern is a term developed by Manchester's Creative Director, Peter Saville, to encapsulate the essence of the city and its unique cultural heritage. As a historical truth about Manchester, the goal of the Original Modern project was to ensure that the values and principles embodied by Original Modern continue to be a future aspiration for the city.
"I recognised a set of values true to the spirit of the city. The key value of provenance was "the first industrial city." That would justify a museum but not provide a route forward. From 'first industrial', to the term "original modern." In those terms, the values were timeless. They are two words that propose what Manchester is about."
To gain a deeper understanding of what constitutes Original Modern in Manchester today, a series of co-design workshops were conducted with a diverse range of stakeholders, including public sector representatives, academics and students, artists and cultural innovators, non-profit organizations, and members of the local community. The workshops were designed to facilitate a collaborative process in which each representative co-defined what they considered to be Original Modern in the city.
The synthesised outcomes of the workshops resulted in the development of six defined statements that captured the essence of Original Modern:
MAKE A CONTRIBUTION TO THE CITY + INTRODUCE A NEW IDEA OR BE PROGRESSIVE + CHALLENGE CONVENTION + THINK GLOBAL OR BE AMBITIOUS = ORIGINAL MODERN
These statements served as the basis for the development of an infographic device, which was inspired by Peter's Manchester signifier logo and mapped the Original Modern criteria to the exemplars identified through the co-design process. The device provided a clear and intuitive overview of the findings and served as an effective tool for communicating the essence of Original Modern to a wide range of audiences. Current exemplars that were mapped using the criteria included graphene inventor Andre Geim, British Cycling, Mines Advisory Group, and Unicorn Food Cooperative.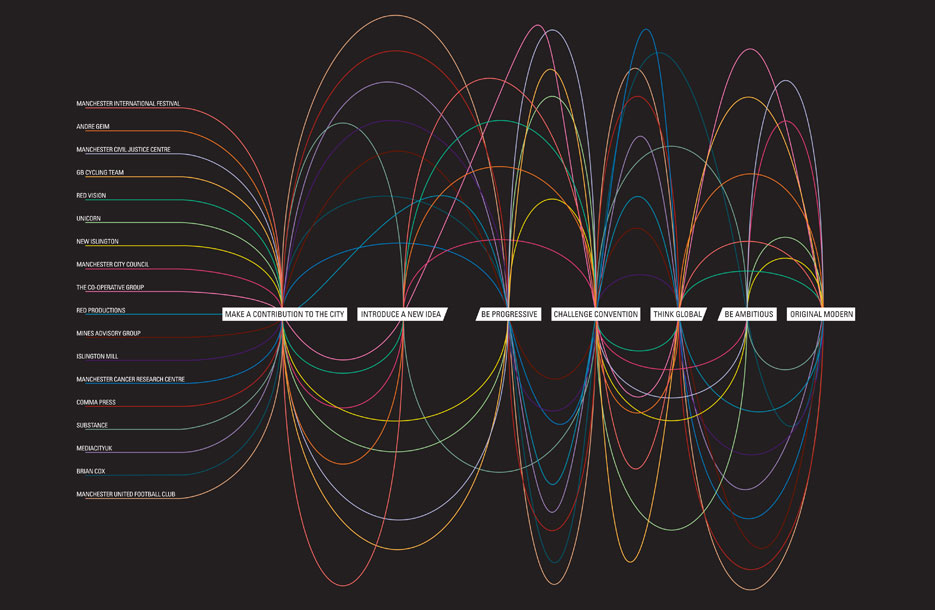 The project culminated in the publication of a hardback book, "Original Modern," which included the infographic device and additional written contributions from historian and author Dr. Tristram Hunt, who provided historical context for Original Modern, and former Editor in Chief of The Observer, Will Hutton, who offered reflections on the future of Manchester.
"So many of the ideas that continue to shape our world first found their voice in Manchester. Alongside the Satanic mills and booming factories, here was where traditional crumbled, urban life was pioneered, and originality thrived. Here was where the modern was born. Original Modern is what Manchester gives to the world."
Collaborators: Graphic Design: Darryl Hardman. Additional Text: Ra Page, Comma Press. Data Visualisation: Stephen Holden. Project Manager: Pip Roche.
Project
Exhibition
Writing
Education
Music
Community