We Sailed From The Apex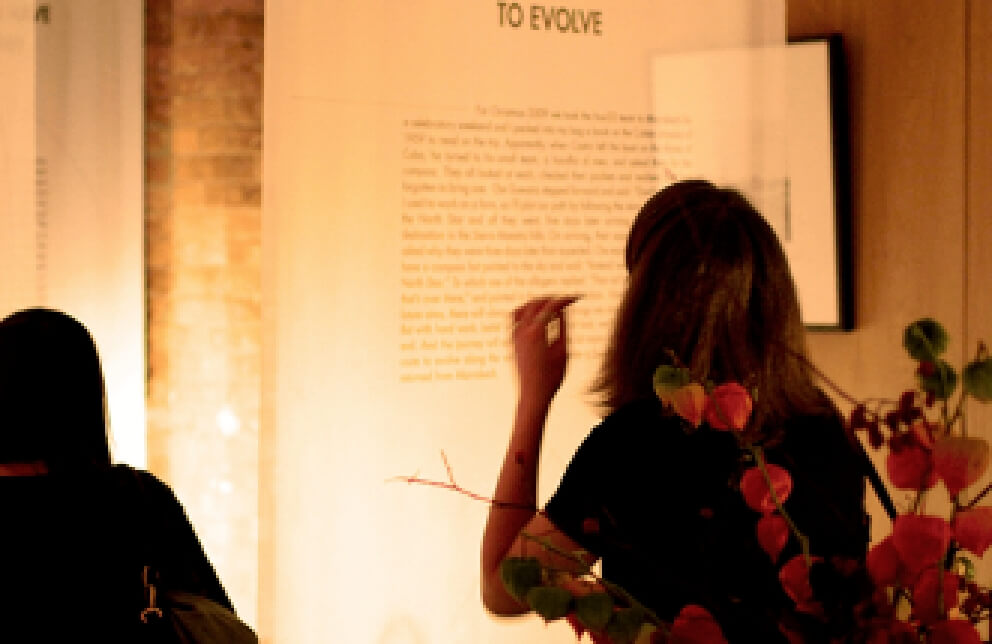 "We Sailed From The Apex" was an exhibition at the London Design Festival that provided an opportunity to explore the diverse aspects of collaboration in design and to contemplate the value of embracing individuality and diversity in the creative process.
The goal was to stimulate reflection on the collaborative process, and I contributed a personal reflection on the importance of diversity of thought in creative collaboration. All of the personal reflections were printed on repurposed sail material, crafted by the Centre for Advanced Textiles at the Glasgow School of Art.
***
"We are all creatively unique and can only unite as complementaries not as similarities"
The title is a quote taken from an exhibition at Dulwich Picture Gallery I visited recently. It told the story of the creative relationship between the artists, and husband and wife, Ben and Winifred Nicolson. The exhibition demonstrated how their individual differences, as well as their similarities, contributed to the unique and powerful body of work they created together.
Winifred's statement, "We are all creatively unique and can only unite as complementaries, not as similarities," speaks to the idea that the most successful and harmonious relationships, including creative partnerships, are ones in which individuals embrace their differences and use them to complement and enhance one another, rather than striving for uniformity.
Reflecting on a project from earlier in my career as a designer, I had the opportunity to work with the late Paul Robertson, the virtuoso violinist and founder of the acclaimed Medici String Quartet. I asked Paul how the Quartet's intense creative collaboration had lasted the test of time, and he explained his theory of the power of different but complementary personality types.
"I am a classic Cleric. When in doubt, I lead. I never suffer from indecisiveness," Paul told me.
"The Quartet's cellist is a classic Phlegmatic, doing everything to make others happy. He would tune his cello out of tune to please others.
Our first violinist was a Sanguine. Constantly spontaneous. Always popping off for an offer at the local market. Flawless but for one exception: he is always sight-reading.
The second violinist was a Melancholic. A perfectionist: patient, thoughtful, painstaking. But after a wonderful performance where I thought we had almost 'touched God', she would say: 'you rushed a bit in bar 33.
The story of the Medici Quartet illustrates the beauty of bringing together individuals with diverse personalities and abilities. Working in harmony, they were able to create something truly exceptional.
As Paul concluded, "but together, as a quartet, we were perfect."
***
Additional credits: Graphics: Darryl Hardman. Set Design: Harriet Paterson, Charlotte Bentley and Olly Starkey. Soundtrack: Jon Wilkinson. Lighting: Michael Straun. Set installation: Tim Warren. Project Director: Pip Roche.
Project
Exhibition
Writing
Education
Music
Community